Almost every year, I put together a parts list for an economical do-it-yourself network attached storage (NAS) server called the "EconoNAS." Each year, my goal with this DIY NAS is the same: to build an extremely budget-friendly DIY NAS that outperforms off-the-shelf products.
Nearly every year, the EconoNAS lacks two killer features that an off-the-shelf NAS always has: diminutive footprints and hot swap hard drive bays. This year, I felt ambitious and tried to close those gaps by setting a few additional goals:
Use the same motherboard from the DIY NAS: 2023 Edition.
Mini-ITX form factor.
At least four external drive bays.
These three new objectives made this year's EconoNAS an even bigger challenge! There are significant price premiums for small form factor PC builds and for cases which feature external drive bays.

Disclaimer!
For the past few years, I have not been buying the parts and building the EconoNAS myself.~ This year's EconoNAS is no different. I always make every effort to try and pick components that would work well together, but it's possible that some sort of incompatibility is lurking out there that I'm not aware of or have overlooked. If you wind up building the DIY NAS: EconoNAS 2023 (or something similar) for yourself, then please share your experience in the comments!
Update (10/01/2023): On Twitter, @TrueNAS challenged me to build and give away the DIY NAS: EconoNAS 2023! I was eager to accept and complete this challenge. The last component arrived during the day on Friday (9/29) and by Sunday evening (10/1) I had compelted assembling the EconoNAS. 20 days from this update I'll complete this challenge by selecting the winner of the giveaway!
Motherboard and CPU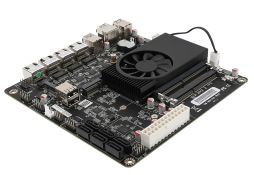 When I built the DIY NAS: 2023 Edition, I was astonished at what a good value it wound up being. In fact, it was such an excellent value that I nearly decided to skip this year's EconoNAS altogether. Rather than do that, I figured that I would make the Topton N5105 NAS Motherboard the centerpiece of this year's EconoNAS, too. The motherboard features:
Intel Celeron N5105 CPU (4 cores, 2.0GHz base, 2.9GHz burst)
6x SATA 3.0 ports
2x NVMe 2280 slots (PCIe 3.0 x1)
4x Intel i225-V 2.5Gbps network interfaces
2x SO-DIMM DDR4 (up to 64GB total)
Given that I didn't actually build this year's EconoNAS, picking the Topton N5105 NAS motherboard is a no-brainer. I'm already very confident in this motherboard's ability to be a DIY NAS as well as comfortable with its compatibility with TrueNAS SCALE.
Case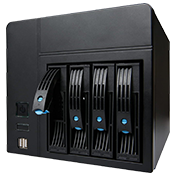 Picking out a case is going to make or break this year's goals for the EconoNAS. Historically, small form factor cases with external drive bays have always been expensive, especially when they're Mini-ITX.
I was really excited when I discovered the AUDHEID K3. It's a compact case with four external drive bays which seems ideally suited for a motherboard like the Topton N5105 NAS motherboard.
I only wish that the AUDHEID K3 case had some internal 2.5" drive bays so that one could fully utilize all the motherboard's storage capacity. If I were building this EconoNAS, I would be looking for gaps in the case where I could modify the case to squeeze in a pair of 2.5" SATA SSDs. For example, I could create the gap by moving the case's cooling fan to the outside of the case. This would be a fun component to 3D-design and print on my 3D-printer. Alternatively, I would consider using Velcro or double-sided tape to adhere the SATA SSDs into any gaps inside the case.
RAM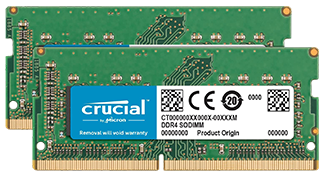 When I picked out the components for this EconoNAS, I knew that I would need to save money on certain components. I was quite tempted by picking the bare-minimum amount of RAM recommended for TrueNAS SCALE, 8GB. However, I opted to go with this 16GB kit of 3200MHZ DDR4 RAM from Crucial instead.
I currently run 8GB of RAM in my off-site NAS, and in the few months that I've been using it, I think it has done a fine job. The biggest driver in the EconoNAS is extracting the most value out of the dollars invested. I simply think there's even more value in having 16GB of RAM that it justifies the extra $20 that it costs. If your budget allows it, upgrading to 32GB or 64GB of RAM are both good values too!
Storage
It is wise to divvy up storage hardware into two categories: boot and user storage. Drives purchased for the boot drives in the EconoNAS are usually low-capacity SSDs with little to no hardware redundancy. Drives purchased for user storage are higher capacity, can be HDDs or SSDs, and hopefully there's one–or more–drives' worth of hardware redundancy in that user storage.
Boot Drive
For all of my DIY NAS builds, I aim to spend less than $20 per boot drive. Because I prefer the TrueNAS appliance OS (SCALE or CORE), it is important to understand that all of the boot drives' capacity is dedicated to the appliance and that none of the capacity will be accessible for the purpose of user storage. TrueNAS doesn't require very much capacity at all (quite a bit less than 16GB), which makes finding SSD in this budget pretty easy.
For this year's EconoNAS, I picked out the Silicon Power P34A60 128GB NVMe (specs). At 128GB, it has eight times the capacity that it needs to have. Drives with a smaller capacity exist, but if they're from a company that I recognize, they're usually as expensive–or sometimes more expensive!
Storage Drives
The costliest part of any DIY NAS build is ultimately going to be the drives used for storage. The amount of money spent on storage increases with capacity, redundancy, and the performance of the storage. What kind of storage and how much of it is very specific to the person who is building it.
The focus of the EconoNAS is value, which I measure using price-per-terabyte, but the best value on storage is almost always the largest drives which also have the biggest price tags. And the drives with lower price tags are usually a pretty bad value.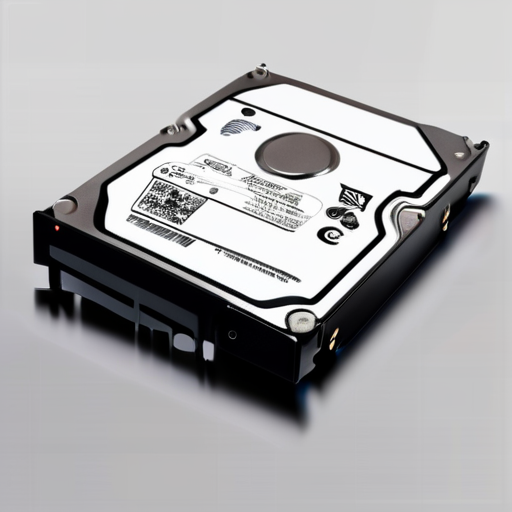 I don't have any current recommendations for storage to buy, but I have a few tips to share for getting the most storage for as little money as possible and I've included a list of hard drive deals that I update from time to time:
Join the #deals channel in the Butter, What?! Discord server, where I regularly share good deals on hard drives.
Build your storage pool by shucking external hard drives.
Set a price point for evaluating hard drives that are "on sale." Personally, I don't get excited about hard drive prices unless they're below $14/TB for a new hard drive or below $9/TB for a used/refurbished/re-certified hard drive.
Always avoid shingled magnetic recording (SMR) drives when working with the ZFS filesystem!
A few recent sub $14-per-terabyte hard drive deals:
Power Supply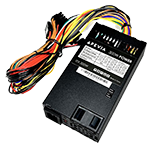 Each year, when shopping for the EconoNAS' power supply, I generally buy the cheapest power supply that I can find that fits the power needs of the rest of the components. When I was considering the AUDHEID K3, I was very worried that I wouldn't be able to find an affordable FlexATX power supply. To my surprise, the Apevia ITX-AP300W (specs) came in at a very reasonable price.
Generally speaking, I think one of the best PC upgrades is to put in a high-quality power supply. If there's room in your budget, then the power supply is a component that I would certainly recommend upgrading in this build. Here are a few alternatives:

Back in 2022, I rebuilt my own DIY NAS around TrueNAS SCALE once it hit its first beta release. For the most part, I think using TrueNAS SCALE is incredibly similar to TrueNAS CORE (formerly known as FreeNAS). But there is one area where TrueNAS SCALE really sets itself apart from TrueNAS CORE: hardware compatibility. TrueNAS SCALE is built upon Debian Linux, and TrueNAS CORE is built atop FreeBSD. Very broadly speaking, hardware support is simply much better under Linux than it is in FreeBSD.
Beyond that, TrueNAS SCALE's other unique features (the KVM hypervisor, Linux Containers, etc.) seem to be superior to TrueNAS CORE's equivalent features. Lastly, I feel like TrueNAS SCALE is more well suited for the storage enthusiast who wants to better utilize their hardware by turning their NAS into more of a homelab machine.
Final Parts List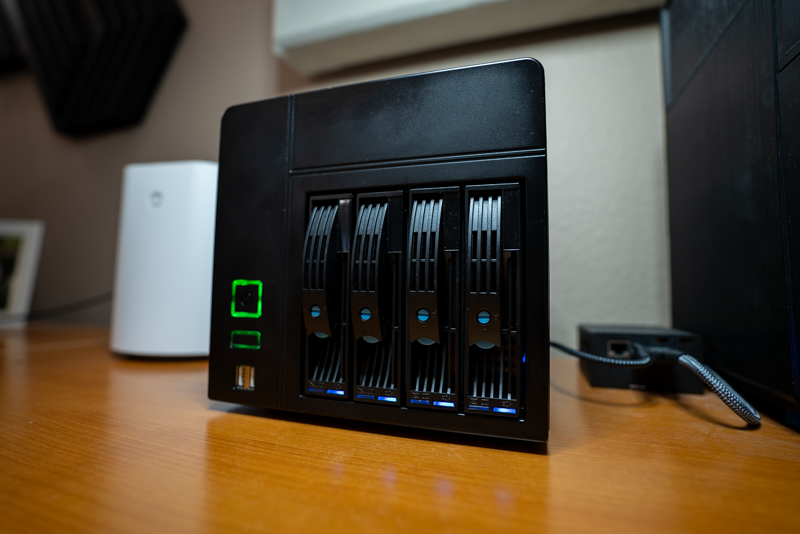 Assembling the EconoNAS
Within moments of accepting @TrueNAS' challenge on Twitter I placed an order for the parts that I needed to build the DIY NAS: EconoNAS 2023. In the following days those parts slowly started arriving and I burned in the motherboard and RAM. I then installed the NVMe SSD and loaded it up with TrueNAS SCALE. This past Sunday (October 1st) I assembled the EconoNAS and filled up each of its drive bays with 14TB hard drives that I had on hand for a future project.
For the most part, I didn't have any major issues assembling the EconoNAS. Everything fit together and it was a completely functional NAS shortly after creating a new pool and dataset after its first boot. If you're planning on building the DIY NAS: EconoNAS 2023 for yourself, I ran into a few minor challenges that I felt were worth sharing:
Working inside the AUDHEID K3 was expectedly cramped which might've caused me to mutter a few four-letter words during its assembly.
The case's front panel cabling adheres to the FPANEL standard which which is a 9-pin connector. However, the FPANEL header on the Topton N5105 NAS motherboard is only 8 pins. However, everything works just fine when connecting the cases FPANEL connector so that the green wire plugs into pin #1 on the motherboard's FPANEL header and the red wire plugs into pin #2. For my own understanding, I took apart the AUDHEID K3 case, took photos of both sides of the front panel's circuit board, and made this diagram of how the K3's FPANEL everything connects to the Topton N5105 NAS Motherboard's FPANEL header.
The Topton N5105 NAS motherboard's SATA connectors are right at the edge of the board and the AUDHEID K3 case's SATA cables wind up rubbing up against a support bar inside the frame. This caused a little bit of friction and difficulty when it came time to mount the motherboard.
I'm glad I got the opportunity to put together the DIY NAS: EconoNAS 2023
How does the EconoNAS Measure up to other off-the-shelf NAS Offerings?
I spent a little bit of time digging around the current NAS products from QNAP, Synology, Terramaster, and Asustor, searching for a comparable NAS with four drive bays and an x86 CPU. For each manufacturer, I wound up picking the NAS that I felt was most equivalent to DIY NAS: EconoNAS 2023. And here's what I found:
Each of these off-the-shelf NAS products is more expensive than the DIY NAS: EconoNAS 2023. With regards to the CPU, all but the Asustor AS5404T have weaker CPUs, and the AS5404T has the same CPU but costs nearly $150 more than the EconoNAS. All four of these NAS appliances only have 4-8GB of RAM compared to the 16GB of RAM in the EconoNAS
However, it's important to remember that each of these off-the-shelf NAS machines is already assembled and has some sort of a customer support department. Not having to assemble the NAS and not having to support it yourself are each compelling features, but they're just not features that I value very much. It is important to realize and acknowledge that value is very subjective and varies widely by person. If these features are something that you value, then I liked the Asustor AS5404T best out of this group.
Is this the best EconoNAS ever?!
Ever since my very first EconoNAS build, I've been wishing that I would be able to build an affordable, small form factor NAS. This is something I've tried to do each time I pick out parts for an EconoNAS, but it always winds up being too expensive. That pattern broke this year, and I managed to accomplish a number of firsts for the EconoNAS build:
2.5Gbps network
Mini-ITX form factor.
A proper 4-bay NAS case.
The first time I added up the cost to all of the parts, I was astonished that it was only about fifteen dollars more expensive than the DIY NAS: 2022 EconoNAS. I was so surprised, I had to triple-check my parts list for omissions and quadruple-check my math! I expected a NAS with this many features would've been considerably more expensive than last year's EconoNAS.
Every year, I expect that each NAS will be better than the prior years', but with the EconoNAS, I've often found that they all kind of blur together. Usually its a big black ATX case, a closeout-priced motherboard, and an inexpensive CPU with an integrated GPU.
But this year turned out different! This EconoNAS is hands down the best that I've ever put down on paper. What do you all think? Let me know in the comments!
Final Thoughts
I really like that both the DIY NAS: 2023 Edition and the DIY NAS: EconoNAS 2023 both use the Topton N5105 NAS motherboard. I'm excited because I have quite a bit of faith from my firsthand experience with the motherboard using it in the earlier DIY NAS build. This helps me be quite a bit more confident in this build, despite the fact that I did not build this NAS. I'm also hopeful that people who are reading this blog a few months down the road will have a greater opportunity to still be able to obtain the motherboard.
I'm also excited that in this EconoNAS build, headroom exists for upgrades to the RAM, an empty M.2 slot, two empty SATA slots (but no obvious place to mount drives), and if you really wanted a CPU upgrade, then a variation of this motherboard exists with a Pentium Silver N6005 CPU:
What do you all think? Does unlocking the Mini-ITX and hot swap bay impress you in a budget-focused DIY NAS? Do you like this year's EconoNAS? Would you prefer the DIY NAS: 2023 Edition instead? Or would you build something entirely different and uniquely suited for your needs? Let me know in the comments and come join the #diynas-and-homelab channel in the Butter, What?! Discord server to tell us all about your DIY NAS!
Giveaway
Within moments of publishing this blog, the TrueNAS Twitter account had this to say:
We DARE @briancmoses to build this and give it away to the community. We will even throw in $100 of #TrueNAS Merch to the winner of the giveaway. https://t.co/HvR9vMPgLo

— TrueNAS Open Storage (@TrueNAS) September 21, 2023
Naturally my reply was to accept TrueNAS' challenge! There are 7 total ways to enter the DIY NAS: EconoNAS 2023 featuring TrueNAS. The contest ends on October 21st and the winner will be drawn and contacted. In the event that the winner does not respond within 72 hours a new winner will be drawn, this cycle will repeated until a winner responds!
While everyone is entering the contest, I will be building, burning in, and doing some testing of the DIY NAS: EconoNAS 2023. Good luck to us all!