The Gizmo Crate people made two separate announcements this month: that they were pushing the shipping date back to the 20th and that they were sold out. I take both of these signs that they're enjoying some success in their first few months. My past two unboxing blogs for Gizmo Crates have been fun to write; I like getting the items, unboxing them, tinkering, snacking and writing about it in the process. Naturally, I was a bit bummed that the shipping date had slipped back a few days, but it was not that big of an inconvenience, even considering my meager allotment of patience. The crate came in with the mail on Thursday (4/24) and I immediately started unboxing and taking photos, only to realize that both of the batteries for my camera were low on juice.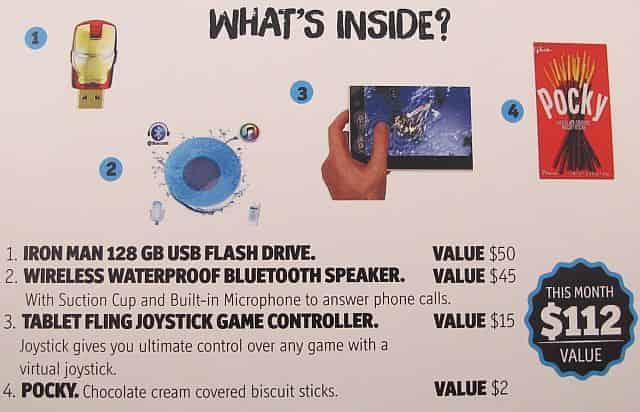 Food Units
This month included a single food item, Pocky Chocolate Cream Covered Biscuit Sticks. Now, on this continent, especially down here in Texas, biscuit has a very different meaning to us. If I didn't watch a lot of Top Gear and if I wasn't married to a German, I wouldn't know that biscuits are what the Brits like to call cookies. Either way, a chocolate-covered cookie or a chocolate-covered biscuit (American) both sound a bit delicious. As it were, the Pocky Sticks were pretty delicious. I always like having items around the house that help remind my wife of being home in Germany, where these apparently are also sold. The box says that it's a "Product of Thailand," so it's really more of a worldwide treat that I just hadn't quite discovered yet. I munched quite a few of these, in lieu of dinner, as I wrote this blog. Much like in March's Gizmo Crate unboxing, the snacks didn't make it to the completion of the blog.
Geek Items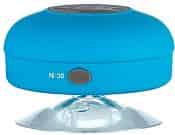 The first geeky item out of the box is a Waterproof Bluetooth Speaker wwhich also includes a microphone and the ability to answer calls. The waterproof nature of the speaker indicates it should used in the bathroom or perhaps near a hot tub or pool. Personally, I wasn't as enthused with this item on account of the very first Gizmo Crate also contained a Bluetooth speaker. This new speaker paired up easily with my phone. I listened to a few songs over Google Music and I found that the sound quality was lacking in comparison to the one from my first Gizmo Crate. However, in a place with nice acoustics, like a shower, I think it'd sound a bit better. Personally, I won't find much utility for this. Showers are either something that I do full-throttle weekday mornings or as a weekend escape for some relaxing/thinking. A phone call would not be welcome in either of these cases, but perhaps some music would be nice every now and then.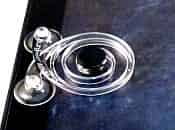 The second geeky item is pretty interesting. It's a Fling iPad Game Controller from Ten One. It's basically a spring, suction-cup-mounted game controller for your iPad. You move it with your thumb or finger like any game controller and the center of the Fling ttouches the screen where you're applying pressure. You'd have to be playing a game which features a virtual joystick about the size of the Fling but I found those games much easier to control using the Fling. The included documentation suggested a few titles: Meteor Blitz, Across Age HD, and Super Mega Worm. The product's packaging and information seems to suggest it's for iPads only, but I tried it out on my wife's first generation Nexus 7 and it worked just fine. However, my concern with the Nexus 7 is that the Fling itself is pretty large; I would worry that it wouldn't work as well on the smaller tablets. Perhaps the smaller Fling Mini would be a better choice for the Nexus 7 is that the Fling itself is pretty large, I would worry that it wouldn't work as well on the smaller tablets. Perhaps the smaller Fling Mini would be a better choice for the Nexus 7. Because I recently purchased an iPad Air, this item should find its way into my laptop bag.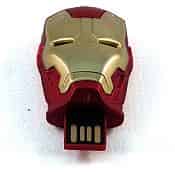 The highlight of this month's Gizmo Crate me was the 128 GB USB flash drive in the shape of Iron Man's head. I couldn't find any 128GB versions of the same flash drive on Amazon, but I linked to a smaller one from the same vendor. I'm mostly excited because of the storage, 128 GB USB drives are going for roughly $40 and up on Amazon. I recently bought a Chromebook, and II've been considering ways to increase the amount of storage on the device, since it only has 16GB of storage space. That amount is fine as long as I have an Internet connection and access to Dropbox and Google Drive, but I'd like to have some sort of storage that I can dump large amounts of data onto (like TV Shows and Movies) and be able to access while offline. This USB drive will do the trick and join the rest of my gadgets in my laptop bag. Even better, when plugged into a USB port, Iron Man's eyes light up blue. That's not exactly the color I recall from the comic books and movies, but it's still a nice geeky touch.
Conclusion
Well, the Waterproof Bluetooth Speaker was a miss for me and I won't get much use out of it. However, this month's Gizmo Crate featured two items that definitely found their way into my laptop bag: the Fling iPad Game Controller from Ten One and the 128 GB Iron Man USB Drive. According to the material that came with the Gizmo Crate, they have a suggested value of around $112. My quick price check on similar items from Amazon suggests a lower price in the neighborhood of $75.00. At either price, it's an excellent value for what the cost of the Gizmo Crate subscription is. I'm looking forward to see what May's Gizmo Crate brings me.