Do you know one of the things that's great about all of these devices that charge via USB? Travelling! A decade ago, anytime I had to travel I was stuck making sure I had a handful of different power supplies packed in order to keep devices charged and all of those power adapters were device-specific. In the current day, considering our number of different devices, I'd need the airlines to allow me to bring a third carry-on item of all my different toys! Thankfully, I can usually get away with a single AC adapter to charge my various devices.
But at home, it's a bit of a different story. I've literally got AC adapters scattered throughout the house: in the bathroom, in the bedroom, next to the couch in the TV room and near the computer. And in some of those places, there are more than one or two adapters capable of charging devices. All of this is fine and dandy, until everybody has a device which needs charging. It's a bit of a first-world problem, but it's a modern inconvenience nonetheless. A few times I've wondered out loud to myself: Why hasn't someone created a power strip for charging USB devices?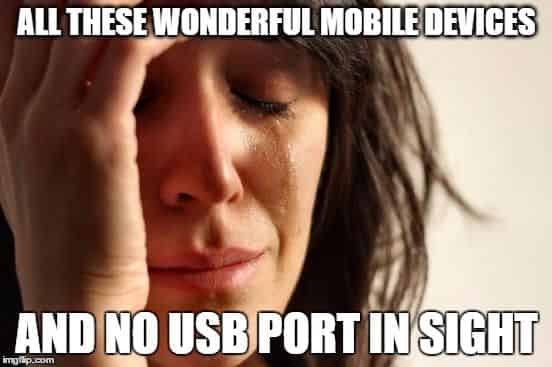 The answer to that first-world problem? The gofanco® 7-Port USB Charging Station (specs) – exactly what I had wondered. A 7-port USB power strip for all of your mobile devices. I'd finally be able to charge my iPad Air, Nexus 6, Dexcom G4 CGM, Fitbit Flex and Kindle Paperwhite at exactly the same time without having to use up more than one power outlet. And even then, I'd have two spare ports for any of Julia's devices or for any visitor.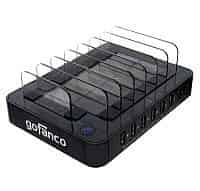 I recognized the goFanco brand from an adapter that I needed for my QNIX 2710 monitors. My positive experience with that device encouraged me to go ahead and give the 7-Port USB Charging Station a try after seeing that it was priced extremely competitively with similar products I found on Amazon. On top of ordering the gofanco® 7-Port USB Charging Station, I purchased six StarTech.com 6 inch Micro USB cables and an AmazonBasics 4" Apple Certified USB-to Lighting cable. The AmazonBasics 4" Lightning cable wound up being a bit too short to reach the tablet and I remembered that my glucometer charges via plugging directly into a USB port, so I also bought a couple Mediabridge USB 2.0 - USB Extension cables to allow me to charge those two devices. I decided on the shorter cables because I didn't want a bunch of loose USB cables ruining my cable management system that I'd set up earlier this year.
Immediately out of the box, I was most impressed with something unexpected on the gofanco® 7-Port USB Charging Station. It wasn't the abundance of USB ports, the dedicated power switch, or anything else I found on the product's specification page – it was rubber! Specifically, the rubber feet on the bottom of the charging station. The rubber kept it in one place on my computer desk; picking up and removing devices from the charging station didn't cause it to move one bit. Furthermore, that same rubber lines both borders of the stations "slots" to hold your devices, which keeps the devices from sliding when they're left in the station or accidentally brushed up against.
Update (9/28/15):</i> Corrected an assumption that I made about the charging unit after gofanco® contacted me, I originally had said that devices like my iPad Air and Nexus 6 could not charge at 2 amps or higher, which was incorrect on my part!
One of the things I especially appreciate about the gofanco® 7-Port USB Charging Station is the fact that it supports charging at 2.1 amps (for theiPad Air) and 2 amps (for the Nexus 6). Based on what gofanco® explained to me earlier today, its Smart IC will allocate the maximum amperage allowed to the devices requesting it. However, it's also my understanding that it's not possible to charge 7 different 2.1 amp devices all at once, but as long as the unit isn't going over its total allowed output of 65 watts it will continue to charge devices at the devices' maximum capabilities.
Altogether, I'm really pleased with the gofanco® 7-Port USB Charging Station. It's found a permanent home here on at my computer desk and to me, that's some pretty valuable real estate. I appreciate having one place to set a device down and charge it up, rather than taking it to any of the dozens of AC adapters or USB ports around the house.