I have been a pet owner for quite a long time. When I got my first apartment in Texas I was adopted quickly thereafter by a stray tabby cat, Tater. That adoption was followed a year or so later when I gave a kitten who needed a home somewhere to stay and named her Jade. For years, I'd wanted a dog. But living in an apartment, being a full time student and full time worker really deprived me of both the space and time that dogs required.
When my wife and I started discussing shopping for a home, I warned her that a dog might accompany us shortly after moving in. We didn't exactly agree, though, as she had her heart set on another cat. Thankfully, I am both convincing and persuasive, which lead us to bringing both Crockett and Zoe into our lives, a fantastic decision which has lead to all sorts of scenes like this:
When we first brought Crockett home, we'd read a few books and talked to a bunch of our friends and familie, trying to prepare for what would ensue. That information wound up being invaluably helpful, but some things we figured out on our own. Today I want to write about a couple of local businesses that we've come across that have been equal parts of fantastic and helpful: Great Paw Pet Sitters and Man's Best Friend.
Great Paw Pet Sitters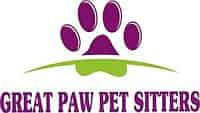 Great Paw Pet Sitters is exactly what it sounds like, they're a company whose focus is pet sitting. When Zoe was a puppy, we had different working arrangements than when Crockett had been a puppy. When Crockett was a puppy I had been working close enough that I could let Crockett out occasionally when he couldn't quite make it all day without needing a bathroom break, and when I wasn't available our dear friends were more than happy to help out and let Crockett out.
At any rate, we didn't want to burden our friends and I just couldn't make a trip home anymore during the weekdays. We decided to temporarily find a pet sitter to take care of our two dogs when we weren't home. I found the Great Paw Pet Sitters via Angie's List and gave them a phone call. At the time, I'd considered giving them and a couple of their competitors a trial run and then pick the best of the bunch. Unfortunately for competitors of Great Paw Pet Sitters they never got a chance.
The care we've gotten from Great Paw Pet Sitters has been fantastic. We met our pet sitter during an initial consultation and they've been taking care of our dogs almost ever since. The business side of scheduling pet sitting and paying of invoices is conveniently handled through the company's website. The pet sitter visits the house, takes care of the dogs and then later updates the appointment with information about the day's appointment, including pictures.
At this point, it's a bit of an extravagance that we continue to use Great Paw Pet Sitters, but we're okay with trading some of our other extravagances for this one. When our work days are the longest, it's nice to know that the dogs get a break in the middle of the day. They offer many different kinds of pet-sitting, dog walking and extended pet sitting services.
Man's Best Friend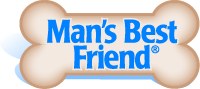 One of the things that I'd known when we got a dog was that we were going to need help with obedience training, both to train the puppies, and more importantly to train us. It took me a little bit of time to sort out Crockett. At first, we tried applying what we'd been reading , but we weren't having much luck. We tried a few one-on-one sessions with a great trainer and decided that we needed a more dedicated approach. When Crockett was about six months old, we decided to seek more help and began researching dog obedience schools in the area. I'd heard the radio commercials for a local company, Man's Best Friend, and read some complimentary reviews of online.
We had an initial consultation with Man's Best Friend with Crockett and learned about their training program. Essentially, they board and work with your dog for two weeks, then you have a series of private one-on-one lessons where you work on applying the things your dog learned. They're kind enough not to say it, but really what happens is they work with your dog and then they work with you one-on-one to train you. We've done this training package with both Crockett and Zoe both because of the wonderful results and the great care that the staff of Man's Best Friend gives to both us and our dogs. Despite both of our dogs "graduating" from their obedience classes, we're still weekly visitors to their group sessions to reinforce what we've learned and mostly because it's an enjoyable weekend activity that we can include the dogs in.
On top of that, Man's Best Friend does boarding and doggie day care as part of their business. We've boarded both Crockett and Zoe at Man's Best Friend when we have gone on vacation. If we didn't have such a nice arrangement exchanging dog-sitting services with my brother, we'd board our dogs with Man's Best Friend again in a heartbeat.
Conclusion
If you live in the Dallas area and you're looking for pet sitting, boarding, or training, look no further than Great Paw Pet Sitters for your pet-sitting needs and Man's Best Friend for your training and boarding needs. I personally can't recommend either company enough; even where the products/services they offer are expensive, I think you get substantial value for the dollars you spent. And even more importantly, it benefits your little four-legged friends tremendously.
How about you guys? What other similarly indisposable dog-related companies have you used in the Dallas area? What are your favorites and why would you recommend them? Please feel free to use the comments to plug DFW-area businesses that have helped with your pet ownership.