After my wife signed me up for Gizmo Crate, she asked me what kinds of items I thought might come each month. We brainstormed a bit, and my guess was that I thought it'd be a mishmash of items. One month it'd be 2-3 reasonably useful geeky items and some food, and other months it'd be a few food-type items and one really high-quality item. So far, I'm two-for-two. February's crate contained a few moderately priced items of utility and this month's Gizmo Crate featured a single headline item.
Food Units
Just because they're not as expensive or have as much utility doesn't mean that the food units aren't appreciated. Neither this month's Kettle Corn from Popcornopolis or the package of Pacific Gold Original Beef Jerky survived the act of being unboxed, photographed and then written about. I was a bit disappointed to get beef jerky again after receiving it February's Gizmo Crate however the kettle corn was delicious and I devoured it quite quickly.
Geek Items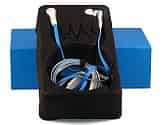 The first of the two geeky items is the Unplug Key Ring. Its design is very similar to European-style electrical outlets and has a matching keyring which "plugs" into the outlet. The outlet base has some adhesive so that you could affix it to the wall. I'm a bit of a keychain-minimalist, so this item didn't really intrigue me all that much. But surely, I know someone who misplaces their keys and could make use of a good gag gift.
The second headline item of the Gizmo Crate is a pair of STREET by 50 Cent Wired In-Ear Headphones from SMS Audio. Apparently it's 50 Cent's answer to Beats by Dre. Unfortunately, I have had atrocious luck with earbud headphones. I've yet to find a pair that fits comfortably and manages to stay in my ear. I've tried a number of pairs, usually inexpensive ones, that never fit quite right and go into a junk drawer somewhere shortly after being purchased. Here, recently when I blogged about what's in my backpack, I lamented the fact I was still using old over-the-ear headphones that took up so much room. I'm a bit conflicted on this item. They go for $50 on Amazon.com, which is a good value, but because I've never had any luck with earbuds I'm concerned that I'm going to miss out on this value.
Conclusion
I enjoyed the food items shipped this month, in fact I'm a bit ashamed that they replaced any kind of dinner for me tonight as I quickly wrote this blog. The Unplug Key Ring missed its mark as I won't really have much use for it. And the STREET by 50 Cent Wired In-Ear Headphones go for roughly $50 on Amazon.com, so there's definitely plenty of value in there. I figure if this set of earbuds doesn't work well with my ears, then maybe I'll use them to build my own custom-molded in ear headphones. Unless you've got some sort of quarrel with earbuds, I think you'll find lots of value in this month's Gizmo Crate.