Back when my friend, Alex, wrote a guest blog reviewing his Meepo Board, I was more than a tiny bit curious about what Alex would wind up thinking about the electric skateboard that he bought. I also wondered and worried that if after already getting me into quadcopters, Alex would wind up getting me into electric skateboards too. After seeing Alex's Meepo Board in action, I was pretty confident that I wasn't going to get sucked into a new hobby. Don't get me wrong, I loved Alex's electric skateboard–it looked like a hell of a lot of fun. But I was already at my limit for hobbies that were going to require me learning new skills. Trying to improve as a quadcopter pilot was eating up as much of my free time as I was willing to devote to any one hobby.
But then one Saturday at the abandoned golf course we love to fly our drones at, Pat was talking about exploring all the cart paths with his electric bike, the Hover-1 XLS, and it dawned on me that some sort of electric transportation would allow me to reach different places in parks that I hadn't seen. A seed had been planted, and it slowly began to take root.
Thanks to Alex's Meepo Board review, my site began to draw the attention of some other electric skateboard companies and I began to have conversations with people asking if I'd be willing to review their skateboards, and the first of these companies to send me something to review was Exway for their X1 Pro Riot Electric Skateboard.
First, a Bit of a Disclaimer
I don't know the best way to say this, but the last time I can recall riding a skateboard, Richard Marx was topping the charts with "Right Here Waiting for You" and the fall of the Berlin Wall hadn't quite happened yet. It has been at least three decades since I'd actually ridden a skateboard. And much like many other things, thirteen-year-old Brian wasn't a particularly good skateboarder and definitely wasn't focusing his efforts on becoming a better skateboarder. At that time, about the only thing I was focused on becoming better at was being a more prolific smartass.
Thankfully, my efforts on being a more prolific smartass have proven to be quite valuable in my adulthood–especially when it comes to this blog–the fact that I never really put any effort into becoming a better skateboarder will certainly have an effect on this particular blog. If you're here for an in-depth review of an electric skateboard from an accomplished skater, this probably isn't the place for you! Here are a few links that I think might be more along the lines of what you're looking for:
But if you're curious about an electric skateboard and want to know a bit more about what this novice thinks, then please read on!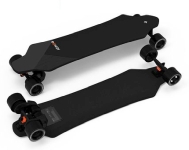 When I was contacted by Exway about reviewing their electric skateboard, the Exway X1 Pro Riot Electric Skateboard, the first thing I did was dig through the links above and check out the board's specifications.
It didn't take much reading and research for me to realize that I was pretty excited to get my hands on the X1 Pro Riot. Primarily, I was interested in the skateboard's range and its weight. How far it could go and how heavy it was were going to be the driving factors in whether or not I could put it to use. The skateboard's torque and top speed were also things that I was interested in as well. Accelerating and going fast are both things that I enjoy doing!
Specifications
Top Speed
29mph (45 kph)
Reduction Gear Ratio
2.57
Range
16 miles (25 km)
Braking Mode
Regenerative
Max Climbing Grade
30%
Motor
5255-160kV
Weight
16 lbs (7.25 kg)
Belt
Continental (Germany) 5MM
Torque
5.2Nm x2
Charging Time
1:10 (Fast)
2:45 (Standard)
Max Power
1200W x2
Trucks
Seismic Aeon 45 degree
Rated Power
750 x2
Grip Tape
2mm Shock Absorbing
Rated Charger Power
75 watts
Waterproof Rating
IP55
Battery Capacity
12s 193Wh
Warranty
6 months
As pretty much an electric skateboard neophyte, the specifications that really jumped out at me were the top speed of 29mph, the range of 16 miles, the weight of 16 pounds, and the battery capacity of 12s and 193Wh. The range of 16 miles was impressive by itself–if you drew a 16-mile radius around my house, nearly everywhere I go falls within that radius. I'm not necessarily positive that everything within that radius that I'd visit would also allow me access to charge a battery, but I like my chances. Similarly, if I halved the radius down to 8 miles, hardly any fun locations drop off the map.
A top speed of 29 miles per hour is a bit boggling to me. Many, many years ago, I learned that my feet were not capable of keeping up with going nearly 30 mph in a foolish attempt to hop out of a moving car. Thankfully, my stupidity only resulted in a bit of road rash and some bumps and bruises. I learned that I was best off staying within any vehicles moving faster than 30 miles per hour that day. I promised my contact I'd do everything that I could to test out the max speed of the Exway X1 Pro Riot, but something tells me that I've learned too much from my lessons in the past to achieve this.
Lastly, thanks to my interest in quadcopters, I've learned a bit about batteries of different construction and sizes. My favorite quadcopter uses six cell (6s) batteries which are around 1000mAh which converts to about 25.2Wh. The twelve-cell battery in the Exway X1 Pro Riot is rated at 193Wh–nearly 8 times the size as one of my favorite quadcopter batteries. I know there are different rules of physics and chemistry involved here, but I'm impressed that the skateboard's battery boasts the range that it does.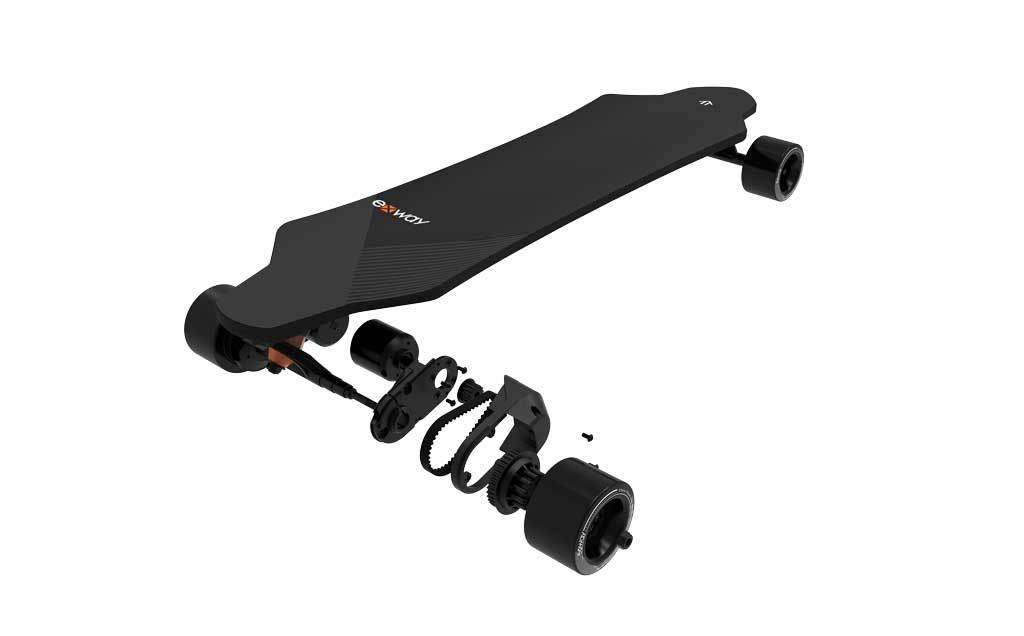 Initial Impressions
I'd seen Alex's Meepo Board, but declined an opportunity to give it a test drive when I had the chance. I didn't really know what to expect the first time I hopped on Exway's top-of-the-line electric skateboard. Thankfully, I'd learned that the higher "gears" are locked out on the Exway X1 Pro Riot, which at least gave me a little confidence that maybe I wouldn't completely make a fool out of myself. And you know what? I didn't!
I was probably a bit more wobbly than I remember being thirty years ago, but not tremendously so. The electric skateboard is actually a longboard skateboard and had a much longer wheelbase than anything I'd ridden before. Moreover, there's quite a bit of heft to the electric skateboard, thanks in large part to its batteries and motorized wheels. The Exway X1 Pro Riot weighs about 16 pounds, and I was surprised at how much more work it was for me to manipulate the skateboard with my feet. I attributed this largely to my lack of practice but I suspect that the boards weight may have also contributed to that.
I started off just by manually skateboarding around, trying to get a feel for the Exway X1 Pro Riot. But I very quickly became confident enough to turn the skateboard on and tinker around in with the 1st and 2nd gears. I'd be lying if I didn't say the first time I engaged the accelerator, I was pretty surprised and nearly lost my balance! Engaging the motors generated enough acceleration and the feeling itself of the motors moving the skateboard without my assistance was unexpected enough that the combination of these two things nearly landed me on my rear end!
At the abandoned golf course where we fly our quadcopters, I took breaks from flying my quadcopters and put a few minutes on the skateboard. Within the first couple days of riding around the pretty jagged asphalt and concrete parking lot at the golf course, I felt like I was ready for my next objective.
Range Test
The Exway X1 Pro Riot website says that for a rider around 150 pounds, the range was expected to be around 16 miles. I weigh in about 25 pounds heavier and I probably plan to be wearing a backpack that adds another 10-15 pounds from potential quadcopter gear. I was curious about what kind of range I'd wind up seeing.
I enlisted Pat's help along with his Hover-1 XLS Folding Scooter. Pat lives right next door to a series of parks and nature reserves with pretty awesome paved trails throughout. Our goal was to do a bit of riding with me doing some larger loops, while Pat conserved his battery power for if he needed to ride back to grab a car and pick me up if I became stranded.
Altogether, I covered 12.97 miles in what I captured during range test. Even better, after resting for a few minutes and stopping my recording, the battery recovered enough to go another half a mile or so to where my car was parked.
While the 13 miles that I traveled doesn't quite add up to the 16 miles claimed in the specifications, it's worth noting that I was roughly 30 pounds (20%) over the 150 pounds that Exway said obtained the 16-mile mark, and more importantly, that their range test was probably done under ideal circumstances and my own test was a much more real-world scenario. All things considered, I was really pleased with the range that I was able to achieve.
Top Speed
Once I was comfortable on the Exway X1 Pro Riot, I shifted into the highest gear I'd unlocked, 2nd, and pretty much had the throttle maxed out the entire time in the range test. Despite this, I wasn't going anywhere near the board's top speed. In fact, Pat made sure he pointed out my speed deficiency by passing me and then passed me again as he chased a speedy cyclist.
However, I was pretty much going 17mph the entirety of the range test, which I thought was both impressive and faster than I thought I could bail out and keep my feet safely under me.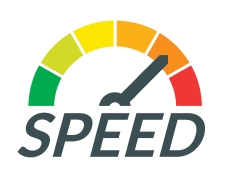 One of people's favorite questions to ask about my quadcopters is "How far will it fly?" and I almost always answer with "Pretty far–and way farther than I want to walk!" I completely expect the most asked question of the Exway X1 Pro Riot will be "How fast will it go?" and the answer to that will invariably be "Faster than I want to run!"
I've barely ridden a skateboard at all, so a top-speed run of my own seems a bit foolish right now. As my inner daredevil takes over the controls, I'm sure I'll be seeing how fast I can get my Exway X1 Pro Riot to go and sharing those updates as they happen.
However, there's no shortage of top-speed runs on YouTube from more experienced riders, like this one from Ronnie Sarmiento where they each hit speeds near the published top speed of 29mph.
What I Didn't Like
As far as the Exway X1 Pro Riot goes, I have mostly good things to say so far. About my only complaint is that it's a bit noisy. It's especially noisy when you're in the middle of a pretty quiet park surrounded by walkers, cyclists, and the occasional rollerblader. I felt a tinge of guilt for interrupting their outings at the park with the constant whine of my skateboard's electric motors. That being said, it wasn't all that noisy, and I think a case could be made that the fact it's noisy is helpful in alerting people ahead of you that they're being approached from behind.
Similarly, I am a bit disappointed by the 6-month warranty. Electric skateboards are not inexpensive, and at its price, I'd expect that the Exway X1 Pro Riot would come with a much longer warranty than 6 months. Given their expense, I'd almost even recommend that people look into purchasing some sort of extended warranty or repair plan for their skateboards.
Final Thoughts
To sum it all up, I think the Exway X1 Pro Riot is actually pretty awesome. It's lightweight, it's fast–at least this newbie skateboarder thinks it is, and I was able to ride it for 13-miles during my real world range test. For everything that I'd hope an electric skateboard would enable me to do, it appears to be more than capable. I'm excited that I'm going to be able to throw a backpack together with my quadcopter, goggles, transmitter, and a few other odds and ends and be able to explore different places to fly in some of the area's bigger parks.
It's currently selling for $799, so a good Final Thought is this: Would Brian spend $800 out of his own pocket to buy the Exway X1 Pro Riot? And my answer to that question is: Yes.
I don't think either of my complaints are major enough to talk myself out of purchasing an electric skateboard. However, I'd probably do some research to find out about how difficult it is to repair the skateboard myself or to buy some sort of protection plan before I pulled the trigger.
What do you all think? Have you thought about buying an electric skateboard or do you already have one? What kinds of things do you wind up using your electric skateboards for? Please use the comments below to let everyone know what you think!