A family wedding brought us to Spokane, Washington this August. When planning the trip, we decided that we'd drive after the wedding to Seattle and check things out. I had been to Seattle almost 20 years ago as a teenager on a family vacation, and it left such an impression on me that it's still one of my favorite places in the world.
Originally, we budgeted about four days for our Seattle trip: one day to drive into Seattle from Spokane via the scenic route recommended by family member, then two days in Seattle and to head home first thing in the morning on the fourth day. However, as it often is with extended family gatherings, we were having too much fun and decided to shorten the trip to Seattle by one day.
As we drove across Washington through some pretty country, I asked my wife, Julia, if she wanted to try and be really insane and see just how much the two of us could pack into our one day in Seattle all on foot. We got into Seattle about dinner-time and checked into our hotel, the Red Lion on 5th Ave., around dinner time. We had a nice dinner at the Castle & Elephant beneath the hotel and discussed our plan. We decided to finish up dinner and then just hike around to get a feel for the area around the hotel, then we'd head back to the hotel and try to plot out everything we wanted to do the next day.
Here's where we encountered our first snafu. Originally, I just wanted to walk by the Space Needle and take a few pictures. Google Maps had informed me that it was only a mile away. So, we set off to do a quick walk by the Space Needle. Unfortunately for us, I didn't have my bearings, and it's much harder to tell where you're heading on your phone while walking. Either that or I am a bit oblivious, let's blame the phone. This difficulty allowed us to set off in the completely opposite direction than what I intended. After walking about a mile in the wrong direction, we decided to turn around and rearrange our activities. We'd wound up down on the waterfront and figured it made much more sense to stop at the Seattle Aquarium and save the Space Needle for later.
We got to the Seattle Aquarium right around 9:30 a.m. and spent two-and-a-half hours there. It is a really fantastic aquarium that I enjoyed thoroughly. We soaked in all the exhibits and we got to watch a couple of the scheduled feedings: One in the massive tank at the very beginning of the aquarium, as well as observe a feeding of the harbor seals a couple hours later. I snapped a ton of photos while we were at the aquarium, and at around noon we headed up a few blocks to the famous Pike Place Market.
Pike Place Market was an interesting and unique place. I don't recall visiting when I went to Seattle as a teenager, but my memory could be failing me. There's tons of little shops which seem to cover just about the entire spectrum of things you might expect to see. There was a good crowd all over the market, and the one thing that I enjoyed was the multicultural aspect of it all. If you listened closely, it seemed as if you could hear people conversing in a number of different languages at any time. We poked around a few different shops/booths looking for knick-knacks and headed off to the next phase of our adventure.
Having crossed Seattle Aquarium and Pike Place Market off our to-do list, we headed off to the Space Needle, hoping that my bearings had improved at least enough to get us there this time. My family did the Space Needle when we visited all those years ago, and Julia doesn't like heights very much, so I didn't have a whole lot of motivation to go up into the Space Needle. Mostly, I wanted to go and take a few photos of the building from below and move on to our next destination. However, the day was absolutely gorgeous, and I thought I'd be able to get a few good photos from up above, so I ventured on up alone. The views were pretty spectacular, but a bit of cloud cover off in the distance obscured the mountains more than I would have preferred. However, I had a great view of downtown and Puget Sound. As an added bonus I got a terribly dorky souvenir picture of myself to boot as part of the admission.
We explored around the Space Needle a bit and decided to ride the Seattle Monorail back downtown after discovering it'd drop us off pretty close to the hotel. This is when we encountered our second snafu and turned the opposite direction again. This time, we didn't walk in the wrong direction all that far because we were tired and hungry. We grabbed some lunch near the hotel and plotted out the remainder of the day: some rest, a ferry ride, and then maybe a baseball game.
We were fortunate in that one of my mother's cousins currently lives in Seattle and made it to the wedding in Spokane. He gave us two very good tips for our trip: Take the longer, much more scenic drive into Seattle via Highway 20; and that a ferry ride would be a great way for us to see Puget Sound inexpensively.
We were in a hurry, so I didn't do a ton of research into the different ferries available. A few reviewers had said the ferry to Bremerton was a nice trip, the price was right at $7.70 a round trip, and the trip length and departure times worked well on our schedule. If we had not been heading to a baseball game right after the ferry returned, I would've been happy to stop in Bremerton and explore it a bit on foot, as a few reviewers suggested.
In our case, we had a nice trip. I stood out on the decks most of the trip, snapping some pictures of downtown Seattle and other things we saw along the way. As I ran out of things to photograph, I wound up bumping into people and having some nice random conversations. Firstly with a woman from Wyoming, she had a University of Wyoming shirt on and I just had to ask her about it since you don't run into a whole lot of people who are from Wyoming. Next I chatted a bit with a fellow Denver Broncos fan and lastly quizzed a guy about his Texas Rangers T-shirt to find out that he had moved from Arlington, TX up to Seattle, WA. What a lucky guy!
Our first night in Seattle while at dinner, I noticed that the Seattle Mariners were playing the Texas Rangers and that the final game of the series would be the next night. As we were adventuring around town, Julia and I decided that if we were still up for it, that night we'd go see the baseball game, since we're casual Texas Rangers fans. I was excited that we'd be able to do this, because it was always such a treat when I was growing up and on vacation when we'd get to go see a baseball game. In fact, on our previous trip to Seattle, we watched the Mariners play back in the old Kingdome.. As an added bonus, I've always been a bit fascinated with the different ballparks with retractable roofs. Despite its rainy reputation, the roof is closed at Safeco fewer times than any of the other stadiums with such roofs. Even though the roof was closed, the design of the roof and stadium still let in tons of the fresh air and the temperature for the game was exquisite.
We made it through 8 innings of the ballgame, which Texas won in extra innings 4-3, before we finally began to run out of gas. The hotel was still at least a mile away, and we had at least one hill like this one to hike back up before we could get some well-deserved sleep.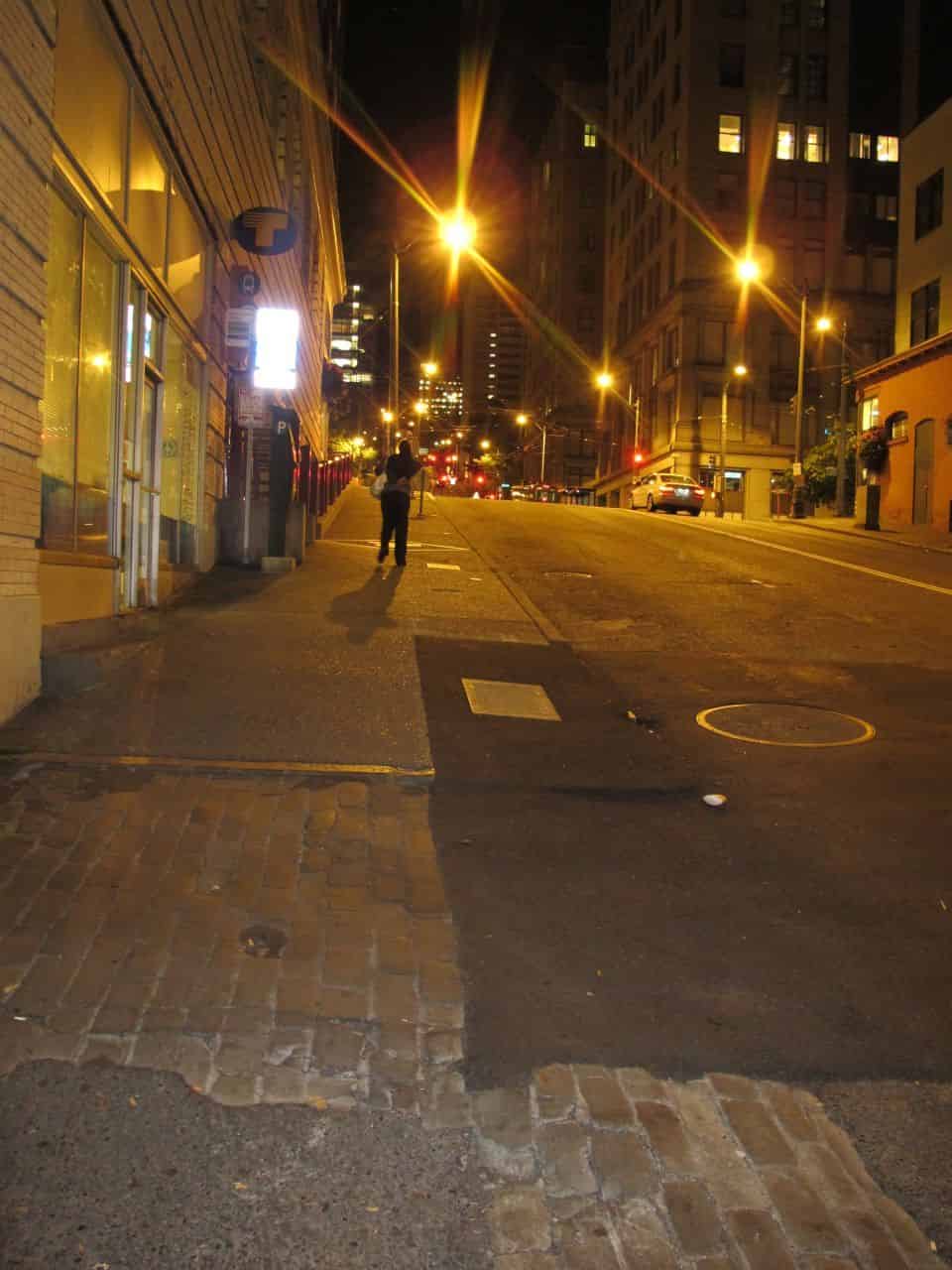 Conclusion
Mostly, we wanted to see a bunch of Seattle, do a bunch of different things, and get the most out of the time we were in town. In a perfect world, we could've just extended our vacation by a couple days and then hung out with family and also see this great city, but sometimes you just have to play the hand you have been dealt. In this case, I think we took the house to the cleaners.
Due to a nap and a couple of wrong turns, we probably wound up wasting 2-3 hours of our day that could've been used to add another destination to the day's activities. That is, assuming that we could have even mustered the energy for another destination! Overall, we had a fantastic visit to Seattle, and we wouldn't change anything except for it's length so that we could do even more things.
If you're planning to be in Seattle for a short amount of time and you need an idea of all you could do in a single day, please keep this in mind. Downtown Seattle is awesome, with numerous interesting destinations all within walking distance of each other. Don't assume that just because your visit is short that you won't get to see much; you'll see as much in one day as your feet and gumption will let you!